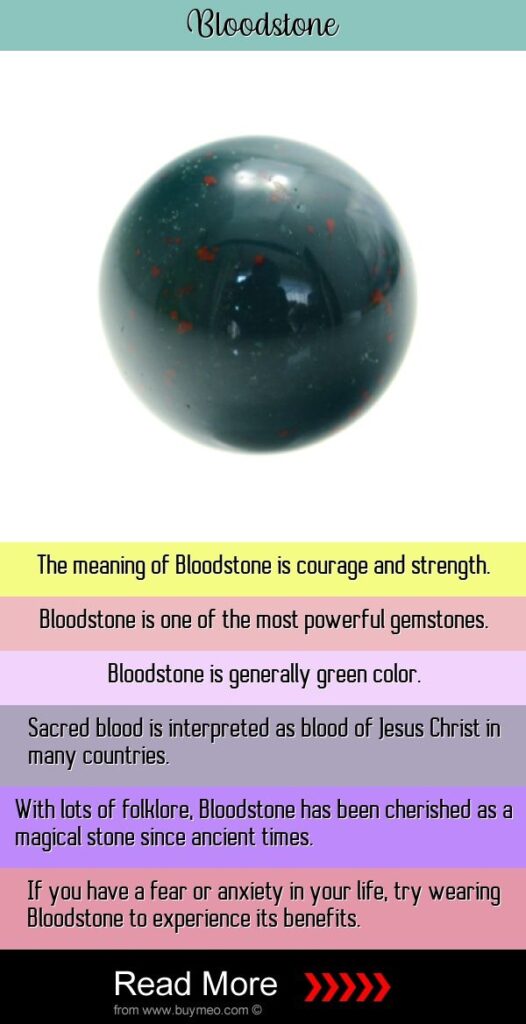 Bloodstone or heliotrope is a kind of chalcedony that is predominantly green in colour, but contains flecks or blotches of red that look like drops of blood, hence its name. The red areas are often cut out and used as gemstones. Occasionally, the red is instead orange or yellow. Bloodstone is always found as masses and never in crystalline form.

Despite its appearance, bloodstone is a variety of quartz, and is mined mainly in North America, Brazil, India, and some parts of Europe. Its hardness is around 7 on the Mohs scale, being essentially quartz. It has a long history of usage among humans, and the red flecks inside it may symbolize the shed blood of Christ to some.

Bloodstone is a good, calming stone that is very conducive in reducing stress and helps condition one to become more aware of one's surroundings. Bloodstone also helps in centering the heart chakra and it helps one to practice love, passion, and unselfishness. When used in meditation, bloodstone is good for helping one to connect with Divine source, and it facilitates this connection via the intuitive state.

For Cleansing : To purge your mind, body and soul, on the night of the full phase of the moon, find a place outdoors where you may lay under the moon's light. 
Put a stone on your forehead and as you lay there, visualize the moon's power entering your body, filling it with perfect white light, as your body fills, see all the negativism, illness and tension leaving from your body, leaving from the rear of your body and sinking into the ground under you.
Ancient use : Ancient Egyptians utilized bloodstone magic to assist them in battles. They utilized magical empowered stones as amulets for the warriors to expand their personal strength. 
For Athletes : Athletes may utilize a bloodstone amulet to help expand their strength and speed. Wear or carry a stone and visualize its power entering your body and inducing your muscles to become firmer (or faster). 
For Psychological matters : This same magic may be utilized by anybody in need of bravery to get through a situation. Simply envision the powers entering the body and presenting you the aspects that you require. 
If you know of somebody that tends to be a bit too "me" oriented, give them a gift of a heliotrope. It helps them to see how matters affect not just them but other people around them or even the whole world.
For Divinations :
Hold a bloodstone in your hands with meditations designed to help you connect with your preceding lives. Once you've entered the meditative state, turn your thoughts backward to a time before your birth and let the images guide you to sights of your prior lives. 
Keep one or more bloodstones on your desk or work table to help expand your business and riches. Even those that don't run their own business may benefit by letting the stone draw in additional sources of money into their lives.
For Healing : As a healing stone, a bloodstone is utilized by healers to help with any sort of blood disorders. This includes but isn't limited to anemia, circulatory issues and Lupus. 
For Women's wellbeing : Wearing bloodstone helps to beef up the immune system, clean toxins from the liver and kidney and purify the bone marrow. Makes an awesome stone for women as it helps to alleviate both menstrual and menopausal symptoms.