Discover the incredible properties of bloodstone and unlock its potential with powerful affirmations for courage, strength, and grounding. Learn how to enhance your energy and find balance with this captivating crystal.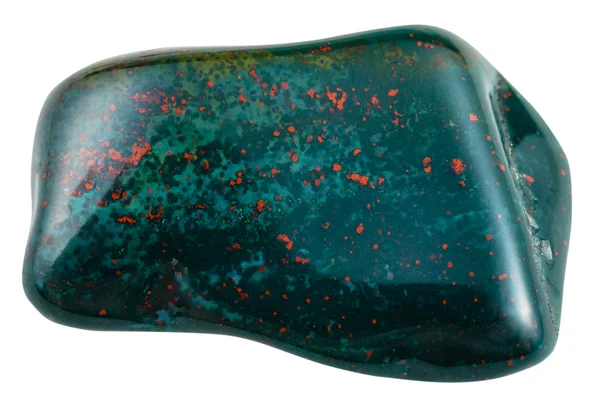 Bloodstone, a mesmerizing crystal renowned for its courage-enhancing and grounding properties, holds the key to unlocking your inner strength and vitality. In this guide, we will delve into the profound benefits of bloodstone while exploring empowering affirmations to infuse your life with courage, resilience, and balance.

Here are 9 practical ways to use Bloodstone crystal in your daily life:

Meditation aid: Hold a Bloodstone crystal in your hand while meditating to enhance focus, promote clarity, and deepen your connection to the Earth's energy.

Jewellery: Wear Bloodstone jewellery, such as a pendant necklace or bracelet, to carry its energy with you throughout the day and enjoy its protective qualities.

Chakra balancing: Place Bloodstone on the Root Chakra (base of the spine) to help balance and strengthen your foundation, fostering a sense of security and stability.

Stress relief: When feeling stressed or anxious, hold Bloodstone in your hand and take deep breaths, allowing its calming energy to soothe and center you.

Energizing water: Create gem-infused water by placing a cleaned Bloodstone crystal in a glass of water overnight. Drink the energized water in the morning to boost vitality and support physical health.

Boosting circulation: Bloodstone is associated with blood circulation and can be placed on specific areas of the body that need healing or improved blood flow.

Enhancing courage: Carry Bloodstone with you during challenging situations or times of change to bolster your courage and inner strength.

Protection charm: Keep a small Bloodstone crystal in your pocket or purse to ward off negative energies and protect yourself from harm.

Empowerment stone: Use Bloodstone during goal-setting or manifestation exercises to amplify your intentions and help you stay determined in achieving your dreams.

Remember to cleanse and recharge your Bloodstone crystal regularly to maintain its effectiveness. You can cleanse it by rinsing under running water, smudging it with sage or palo santo, or placing it on a selenite charging plate under the moonlight.
Affirmations are positive statements that can help focus your mind on a specific intention or goal. When working with crystals like bloodstone, affirmations can enhance your connection to the crystal's energy and amplify its potential benefits. Bloodstone is often associated with courage, strength, vitality, and grounding.
Here are some affirmations for bloodstone:
"I am filled with courage and strength, just like the power of bloodstone."
"My energy is grounded and balanced, drawing from the stabilizing force of bloodstone."
"I embrace challenges with confidence and determination, supported by the energy of bloodstone."
"I am resilient and full of vitality, like the vibrant colors within bloodstone."
"With each breath, I feel a deep sense of grounding and stability, akin to the essence of bloodstone."
"I release negativity and embrace positive transformation with the help of bloodstone's healing energy."
"My heart is open, and I express love and compassion, guided by the nurturing energy of bloodstone."
"I am in tune with the Earth's energy, drawing strength and courage from the power of bloodstone."
"I am protected and shielded from negative influences, surrounded by the aura of bloodstone."
"I trust in my intuition and inner wisdom, amplified by the supportive nature of bloodstone."
As for how many times you can chant or repeat these affirmations, there's no strict rule. The key is consistency and intention. You can repeat them as many times as you feel comfortable and resonant with the words. Some people find it beneficial to incorporate affirmations into their daily meditation or reflection practice, while others may repeat them silently throughout the day whenever they need a boost of positive energy. The most important thing is to feel a genuine connection with the affirmation and let its positive energy permeate your thoughts and mindset.
By embracing the empowering properties of bloodstone and integrating purposeful affirmations into your life, you can embark on a journey of self-discovery, resilience, and positive transformation. Allow the captivating energy of bloodstone to guide you towards a life filled with courage, strength, and grounded vitality.